Are you struggling with discoloured or stained teeth? Are your teeth crooked and a source of embarrassment for you? We can help you, with dental veneers to suit your smile. At Belmont Village Dental we are experts in creating stunning dental veneers to increase your confidence and give you the permanently beautiful smile you have always wanted. For so many of our patients, not being happy with their smile is something that takes away confidence, which can go on to cause problems with work and personal relationships.
If you have:
Stained, chipped or broken teeth
Worn down sections of your teeth
Large gaps that you're unhappy with
Uneven, misaligned teeth
Veneers will help to restore your confidence. If you are generally unhappy with the appearance of your teeth, dental veneers may be just what you need. Porcelain veneers resist stains and are longlasting. If you'd like to know more about the cost of veneers and how to get started with your dental veneers, then book an appointment online and speak with one of our dentists to discuss the best options for your unique needs.
What are Veneers?
Veneers are crafted from porcelain or resin composite. They are shaped to fit the front of your teeth and present a perfectly uniform and stain-resistant smile for up to twenty years. If you choose to get porcelain veneers, these are a more expensive option, but they do last the longest. They also have similar light reflecting properties to your natural teeth so will look realistic.
If you get resin composite veneers, you can expect them to last for eight years, and you'll also need to take care of them very well because they can chip. In many cases, these veneers will be placed in a single appointment where the composite material will be shaped and fitted. Veneers are a simple and effective solution to a crooked or stained smile and are a great cosmetic option for patients without any major dental issues like gum disease or decay.
Are Veneers Right for Me?
So long as your teeth are free from decay and you don't have any gum disease or issues with clenching or grinding your teeth, you may be an ideal candidate for veneers.
Dental veneers are perfect for:
Crooked teeth
Misshapen or discoloured teeth
Cosmetically damaged teeth
We will inspect the teeth prior to consulting with you on your dental veneers, and if we find that there's any reason why you might need dental work to ensure your teeth are healthy, we will need to do this first.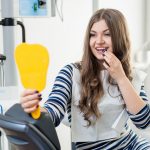 Benefits of Dental Veneers
Dental veneers are the fastest way to get that perfect Hollywood smile you've always wanted and are a great way to recreate a natural-looking smile in a minimally invasive way.
Veneers are almost as natural looking as your original teeth. Many people cannot tell the difference.
Veneers are an excellent way to quickly and effectively fix minor gaps and overlaps in your mouth.
If you've been struggling with whitening your teeth and can't get the results you want, veneers will get you there quickly.
What's Involved in Getting Dental Veneers?
When you're committed to your veneers, you'll need to head in for an initial consultation in which we will do a standard checkup and look for any issues with gum disease and decay. All things going well, we'll proceed to the next step.
To prepare your teeth for the veneers, your dentist will need to trim a minuscule amount of enamel – around 0.5 millimetres – from the surface of your tooth. This will be replaced by the veneers you get over the top. Your dentist will speak with you about your pain management and can offer you a local anaesthetic to numb the area for your comfort. Your dentist will then make a mould of your teeth so that your veneers can be constructed. After this point, your veneers will be made in a lab and will be ready in one to two weeks.
When your dental veneers are ready, you'll come in for your second appointment at which point your veneers will be attached and bonded to your teeth and checked for shape and fit. We may request a final follow-up appointment for several weeks after your procedure to ensure your veneers are fitting correctly.
Things to Know Before Getting Dental Veneers
We want our patients to be fully informed about the restorative treatments available to them. If you get dental veneers, we want you to know exactly what to expect. They're not for everyone, but they certainly are a great option for many of our patients.
They're permanent.
Porcelain veneers can be expensive, but they do last for a long time.
Your teeth might become more sensitive to heat and cold food and drinks due to some enamel being removed.
If you chip or crack your veneers they cannot be repaired; you'll need to replace the veneer.
Got some questions to ask us? Give us a call on (07) 3393 9550 – we're more than happy to chat with you about dental veneers.
Why Choose Belmont Village Dental for Your Veneers
We love transforming the smiles of our patients and seeing happy people with their bright white teeth. You won't need to worry about not receiving the best possible care; we're entirely committed to your happiness and ensure that you're satisfied with our service every step of the way. We're a family practice and have been helping the families of the Bayside area with their dental needs since 2012. We're equipped for general dentistry, cosmetic dentistry like veneers and preventative dentistry.
Dental Veneers at Belmont Village Dental – Book an Appointment Online
If you would like to know more about veneers cost or how to get veneer teeth treatment done, then please contact us. For porcelain veneers that provide long-lasting results, you can trust Belmont Village Dental.
We care about your dental health. Book an appointment online, or give us a call on (07) 3393 9550.