We offer a complete range of general and preventative dentistry services that will help keep your teeth healthy and looking their best. Whether you're a first-time patient or one of our regulars, you'll find everything you need here to enjoy strong and beautiful teeth for years.
We recommend dental check-ups and professional cleaning every 6 to 12 months for all our patients. These regular check-ups ensure the early detection and treatment of periodontal disease, dental decay or other oral issues.
Book an appointment today to schedule a check-up or treatment with one of our dentists.
General Dentistry
The key to strong and beautiful teeth is proper ongoing care. Our general dentistry services provide everything you need to maintain and improve the condition of your teeth, helping you keep them strong and more resistant to damage. Whether you need routine check-ups or specialised treatment, our general dentistry services have you covered.
Check-ups – includes a thorough examination of your teeth and gums, to prevent small problems becoming big ones.
Treatment Planning – personalised short and long term plans for the proper care and maintenance of your teeth.
Fillings – professional dental fillings with a range of filling materials to choose from.
Tooth Extraction – removal of wisdom teeth, badly decayed teeth, and other teeth that could compromise your oral health.
Restorative Treatments – includes endodontics, periodontics, and prosthodontics and other treatments that treat your teeth's supporting structures.
Root Canal Treatments – routine root canal treatment that can save your teeth from severe tooth decay, infection, or injury.
Hygiene Appointments – professional cleaning and other treatments that can remove plaque and build-up in your teeth to help prevent cavities and other dental issues.
Fluoride Treatments – additional protection for your teeth to better prevent cavities and tooth decay.
Been a while since you've seen a dentist?
Preventative Dentistry
Preventative dentistry care covers both at-home dental care that you perform yourself as well as services provided by our dentists to help you maintain healthy teeth and gums.
At Belmont Village Dental, we believe that preventative dental care is critical to the long-term health of your teeth. We'll always take the time to answer your questions about caring for your teeth and gums at home, and we can help you develop an oral hygiene routine that provides maximum protection.
Our services for Preventative Dentistry include:
At-home dental care – providing information, products, and tips for optimum dental care at home.
Oral examinations – thorough check-ups and examinations to evaluate your oral health and identify any dental and oral issues as early as possible.
In-clinic cleaning – professional dental cleaning to remove plaque and build-up that normal brushing and flossing can't.
Screening – professional screening for gum disease, oral cancer, and other dental issues.
Fitting of mouthguards – accurate fitting of mouthguards and other protective mouth implements.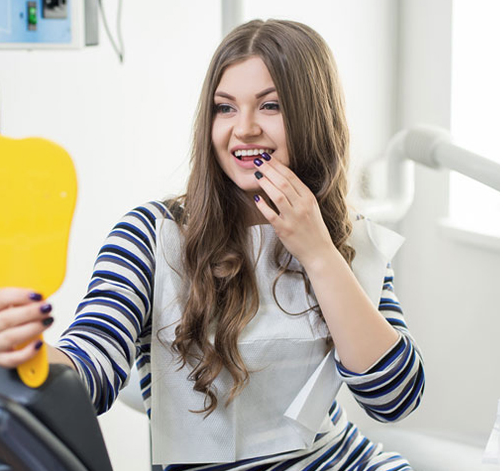 FAQs
How often should I see a dentist?
We always recommend that you visit your dentist 1-2 times per year. This will give you the best chance of keeping your teeth clean, strong, and healthy. A trip to the dentist every six months for cleaning and maintenance will also ensure that any plaque or build-up can be removed, reducing the risk of gum disease and dental decay.
Do you provide services for dental emergencies?
Yes, in many cases, we can provide same-day dental services for toothaches, loose fillings, cracked teeth, and root canal therapy. We make every effort to treat you on the same day if you are in pain.
What can I expect in a regular dental check-up?
General check-ups typically involve evaluating each tooth in your mouth and checking for any signs of tooth decay, gum disease, and other common dental issues. In cases that require more in-depth evaluation, our dentist may require a dental X-ray to get more information. If any dental issues are present, our dentist will talk you through the treatment options available.
Should I visit the dentist even if I don't feel any pain?
Yes! Regular visits to the dentist are key to ensuring proper oral health. Tooth decay and plaque builds up over time, and may not cause pain or discomfort right away. Some issues like gum disease also present minimal symptoms in the initial stages, so it's important to identify and treat these issues early on before they become worse. If you wait until something hurts before going to the dentist, then it may already be too late for a simple treatment. The more advanced a dental problem is, the more difficult and expensive it will be to treat.
General and Preventative Care at Belmont Village Dental
Get all the services and treatments you need for healthy teeth at Belmont Village Dental.
Book an appointment online or call our friendly team on (07) 3393 9550.