Dental Implants are posts that act as replacements for the roots of your natural teeth. These implants are designed to secure your dentures in place, ensuring they stay put and don't loosen or detach accidentally. These implants are fused to your jawbone, providing a strong and stable foundation no matter what type of dentures you'll choose. Given its stability and comfort, a professional tooth implant is perhaps the most effective tooth replacement available today.
If you're interested in getting dental implants to replace your missing teeth, then call us on (07) 3393 9550 to schedule an appointment with our dental team. Whether you're curious about the cost of dental implant procedures or interested in learning more about the requirements, our team can answer any question that you may have. We'll help you understand every aspect of the procedure so you can decide whether this is a viable option for you.
Benefits of Dental Implants
Dental implants offer many advantages that make them one of the top solutions for teeth replacement and teeth restoration.
Aesthetics – Dental implants are renowned for their ability to look like real teeth, making them the best option for those who want the most lifelike dentures available. With more realistic dentures in place, you can smile more naturally and confidently every day.
Stability – Dental implants are perhaps the most stable set of dentures you can have. Because they're implanted in your mouth and set on your jawbone, they're incredibly stable and unlikely to move, even after heavy chewing and eating.
Comfort – Because they hold dentures securely in place, dental implants naturally make dentures feel more comfortable in your mouth. Many who have had them have remarked how closely they feel like natural teeth. They also let their wearers chew and communicate more easily (and more comfortably) than other types of implants.
Durability – Thanks to their hard material (usually titanium) and the way that they're bonded to your jawbone, dental implants are incredibly tough and durable. Their ability to stay in place protects them from the wear and tear of chewing, making them much stronger than other types of dentures. Because of the material used and design, a tooth implant is considered the strongest tool for supporting dentures and teeth replacements.
Versatility – One of the biggest benefits of dental implants is that you can use them for a variety of dentures. You can use them for a single tooth or several teeth, and they're also suitable for both full and partial dentures. Because they have more to do with the foundation of your denture rather than the denture itself, you have the freedom to use them with different denture solutions.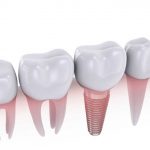 Dental Implant Procedure
Dental implants are considered a major dental procedure that requires a special process to complete. The entire procedure is normally carried out in different stages, which includes the preparation of your jaw for implants and bonding the implants to your jawbone. Keep in mind that your dental implants procedure will also depend on what type of implant you're getting and the condition of your jaw.
Most procedures start with a thorough evaluation of your teeth, jaw, and mouth. This evaluation is used to create a treatment plan that's tailored to your needs. This plan will typically be divided into different stages such as tooth extraction, preparation of your jawbone, placement of the dental implant posts, moulding your teeth and jawbone, and the placement of your artificial tooth/teeth. This plan should also time for recovery and healing. This means that the entire process can take several months to complete.
FAQ
How much does a tooth implant cost?
This depends on a variety of factors, including the type of dental implants you need, the condition of your mouth and jawbone, and type of replacement teeth you're getting. Feel free to call us on (07) 3393 9550 to discuss your needs and to get an idea of the total cost of dental implant procedures for your case.
How long do they last?
Given proper oral hygiene and maintenance, dental implants can last for several years. If you take care of your dental implants and use them properly, then you can expect them to last for around 15 years before possibly needing replacements.
How many appointments will I need?
This will depend on your case and situation. Simple and straightforward cases can sometimes be completed in as little as two appointments. But more complicated cases can take several appointments over several weeks or even months. After discussing your needs and evaluating your condition, rest assured that our dental team will let you know how long you can expect to complete your procedure.
Do dental implants hurt?
Like any surgical procedure, you can expect to experience some level of pain or discomfort throughout the process. For those who are concerned about the pain, general anaesthetic may be provided for the procedure.
What can I expect after getting a tooth implant?
The first several weeks after getting dental implants will be about healing and recovery. Expect to experience some pain and discomfort as your jaw and mouth adapt to your new implants. There may be some swelling, bruising, and even minor bleeding present during these healing stages. Medication and painkillers may be prescribed if necessary.
After healing and recovering from your procedure, expect to take a few weeks to get used to your new implants. But once you've gotten used to your tooth implant, it will soon feel like a normal part of your mouth and body.
After healing and recovering from your procedure, expect to take a few weeks to get used to your new implants. But once you've gotten used to your tooth implant, it will soon feel like a normal part of your mouth and body.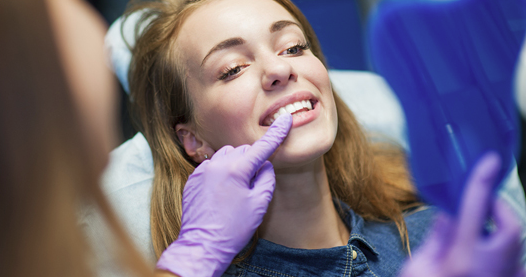 Learn More about Dental Implants
If you're interested in getting dental implants as tooth replacements, call (07) 3393 9550 to find out more. We'll help you understand the procedure so that you can make the right decision for your case.
You can also send us a message online if you have any other questions, including the cost of dental implant procedures and what to expect before starting.