Bring back your smile and chew properly again with a brand-new set of dentures from Belmont Village Dental.
Dentures don't have to be a last resort and they aren't just for the elderly. Anyone with missing teeth, at any age, can have these realistic and removable teeth replacements to regain their confidence back again.
Whether you require full dentures, partial dentures or denture repair services, at Belmont Village Dental, our dentists are here to help. Our caring and compassionate team of dentists have experience working with patients getting denture implants for the first time as well as those who already have dentures and require new ones, or who need repairs completed on their existing set.
Whether you're a new or existing patient, we welcome you to our Belmont clinic to take advantage of our full range of denture services.
What are Dentures?
Dentures are removable replacements for missing teeth. They resemble natural teeth and can enhance both function and appearance.
There are various options to choose from, and with newer materials and designs available, dentures are more comfortable and natural looking than ever before.
There are two main types of dentures:
Complete dentures which replace all of the patient's natural teeth
Partial dentures which are used when some natural teeth remain
Dentures can be a very viable solution for those with few remaining teeth. We will talk you through the various options, including the pros and cons, materials and types of dentures that may be right for you.
Full and Partial Dentures Benefits
Wondering whether dentures are the right option for you? Here are the biggest reasons why so many patients choose dentures:
Dentures are an ideal option for people with few or no teeth, allowing their smile to look and feel normal again.
Dentures are very sturdy, long lasting and often only require replacement or alterations due to changes in the mouth itself.
Dentures allow people with multiple missing teeth to regain the ability to eat and chew without problems.
Dentures are easy to maintain.
Dentures are flexible, making them easy to fit into and remove from the mouth.
The same foods can be consumed as before with the exception of very hard and very sticky foods.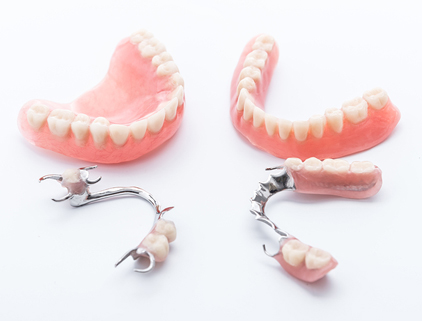 Things to Know Before Getting Dentures
Despite the apprehension some patients may have about dentures and this removable tooth option, there are in fact very few downsides to having dentures. Here are the key facts every patient should know:
Dentures need to be taken out of your mouth at night and left to rest in a glass of cold water.
Dentures should be brushed like normal teeth however this should be done before placing them back in your mouth to guarantee a more thorough clean.
Your gums and remaining teeth will change as you get older, therefore, the shape of your dentures will need to change or be replaced about every 5 years to suit.
Eating with dentures can feel a little strange at first however this feeling will likely subside once you're more familiar with them.
Some people are unable to feel comfortable wearing dentures and do not like the movement of dentures in their mouth. Denture implants may be a more suitable option for these individuals.
Have any questions about dentures? Give us call on (07) 3393 9550 and we'll happily answer any queries you may have.
What to Expect During Your Appointment
A number of steps are needed to create and fit your first set of dentures.
First, your dentist will confirm with you the reasons why you've chosen dentures and gain an understanding of your expectations, whether they be related to aesthetics or functionality. Once you're happy to go ahead, your dentist will advise if the removal of any teeth is required.
The next step involves taking a mould impression of your mouth, as well as bite moulds to check your biting action, so that a set of dentures can be tailor-made for you. At this stage, you will also get to choose the shape and colour of your new teeth. Once your dentures are created and fitted correctly, your dentist will give you instructions on how to care for them.
You can expect to make 4 to 5 appointments with our dentist over a six-week period. Multiple appointments are required to ensure the dentures are made correctly and will fit perfectly into your mouth.
Denture Implants
Along with standard removable dentures, denture implants are another viable option. Denture implants, also known as an implant retained dentures, are a permanent fixture that restore your missing teeth and act as a replacement for your teeth. This is a suitable option for anyone who would prefer a more permanent alternative to standard dentures.
Denture implants are more reliable and firmly secured into place, therefore, they won't come loose like traditional dentures when eating certain foods. Many patients also remark that denture implants are more comfortable, feeling more like natural teeth.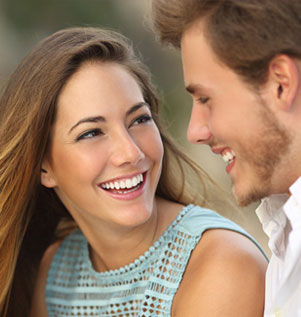 Denture Repair Services
If your dentures become broken or damaged, bring them into our dental office and we can fix them for you. Depending on the type and amount of damage done, we can offer denture repair on the spot while you wait. We don't want you to go without your dentures for longer than you have to, so we always try to complete any repairs as quickly as possible.
Even the smallest hairline crack in your dentures can become a much bigger and more expensive problem down the track, so no matter how small the problem may seem, don't hesitate to bring your dentures in for repairs as soon as possible.
Why Choose Belmont Village Dental for Dentures
At Belmont Village Dental, we take great care in ensuring you're fitted with dentures that are comfortable and look natural. It's extremely important to us that you walk away happy with your brand-new dentures. We also give you all the advice you'll ever need to take care of them properly so they will last for as long as possible.
Along with having highly experienced dentists on hand in our clinic who have fitted countless dentures in their years of practice, we also have state-of-the-art equipment at our disposal to make your appointment with us as smooth as possible.
We also believe money shouldn't be a barrier for good dental health, which is why we always try to recommend the best treatment option to suit your budget.
Dentures from Belmont Village Dental – Book an Appointment Today
Dentures are extremely sophisticated these days and look indistinguishable from natural teeth when worn properly. If this is a false teeth option you're considering, contact us on (07) 3393 9550 or book an appointment online to discuss the next step with one of our dentists.
From full and partial dentures to denture repair services and denture implants, every possible denture procedure available can be undertaken right here at Belmont Village Dental.