Want to restore your smile? If you have one or more missing teeth, a tooth bridge may be an ideal option for you. Dental bridges are one of the many common methods for replacing missing teeth, and at Belmont Village Dental, we want to restore your bright smile and get your mouth and teeth looking and functioning like normal again in no time.
We're a South East Brisbane dentist conveniently located in the Belmont Road Shopping Village with plenty of free parking available. So, if you have missing teeth and would love to bring back your smile, book an appointment online.
What is a Dental Bridge?
A dental bridge is a prosthetic device that's used to replace one or more missing teeth and is designed to span the space where the teeth are missing. The dental bridge is cemented to existing teeth on either side of the missing tooth gap or implants. Once cemented into place, you'll be left with a realistic looking alternative to your natural teeth. Dental bridges are also permanent, so the only maintenance you require is to brush them every day, just as you would do for your normal teeth.
Is a Tooth Bridge Right for You?
Dental bridges are permanent tooth replacement options that look and feel like new teeth. If you have one or more missing teeth, this is likely to be a suitable choice for you. The ideal candidate should also have healthy teeth on either side of the gap to secure the dental bridge too. If this isn't the case, implants may be required.
There are multiple treatment options available for a missing tooth, so your suitability for this procedure will depend on your oral health, jawbone density if implants are required as well as your personal preference.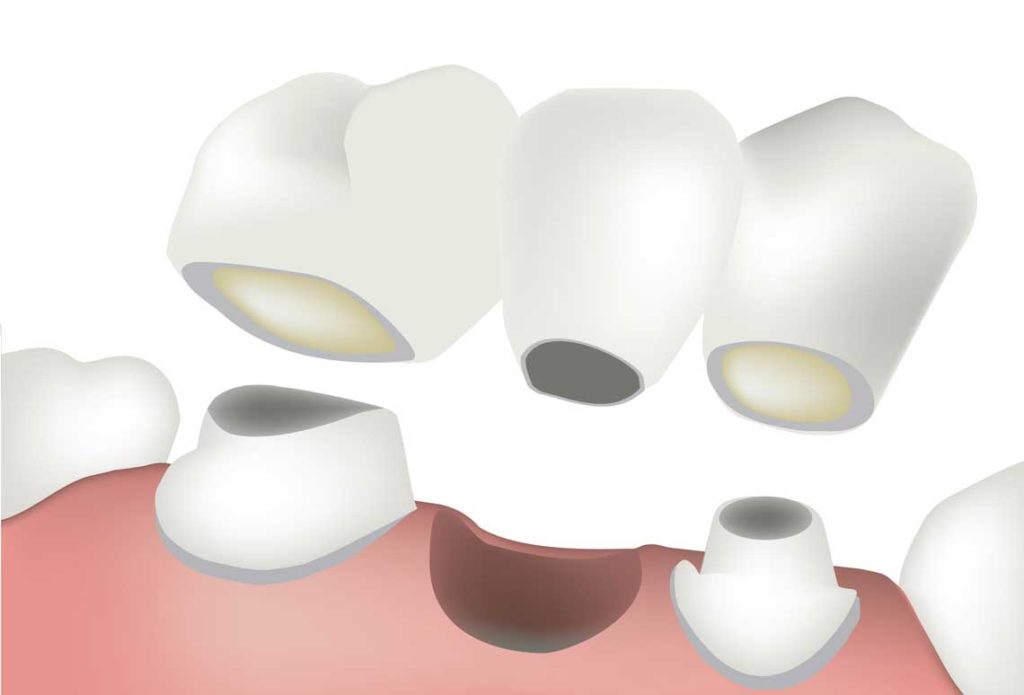 What's Involved in a Dental Bridges Procedure?
During a dental bridge procedure, the two healthy teeth on either side of the gap will usually be filed down. A mould will then be taken which will be used to make the bridge. In many cases, the patient receives a temporary bridge to use until the permanent one is prepared.
Once the new bridge is ready, it's cemented to the surrounding teeth. Alternatively, the bridge may be anchored with a dental implant that's placed surgically into the jaw. Your dentist will advise if dental implants are an advisable option for you.
Dental Bridges Benefits
The biggest benefit of having a dental bridge is being able to restore your smile and no longer needing to feel self-conscious about your missing teeth. But along with the obvious aesthetic benefits, there are some practical and health advantages also.
If the gap left from a missing tooth isn't filled, surrounding teeth may lean in towards the gap over time, which will impact your bite. Missing teeth can also affect how you chew and speak, so a dental bridge will help with this by ensuring the force in your bite is distributed properly.
Things to Know Before Getting a Dental Bridge
Although dental bridges will last for many years, they must be taken care of properly by brushing your tooth bridge with fluoride toothpaste and using floss. If the dental bridge isn't looked after, it can fail. This is usually the result of either the natural teeth next to the bridge decaying or failure of the cement used to solidify the bridge into place.
At Belmont Village Dental, we take pride in our work and ensure every dental bridge procedure goes ahead smoothly and that the bridge itself is secured firmly in place to ensure longevity.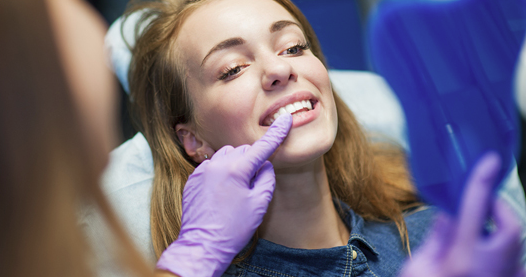 Why Choose Belmont Village Dental for Dental Bridges
When it comes to restoring your smile, you want to know that the dentist you choose is experienced and goes above and beyond to make you feel comfortable. It also helps if they're kind, caring and understanding of your situation.
At Belmont Village Dental, we understand how important these things are to you, and we always apply attention to detail to everything we do, so you can get the longevity you expect from your new tooth bridge.
Tooth Bridges at Belmont Village Dental – Book an Appointment Online
Don't put up with unsightly missing teeth any longer. Dental bridges may be just what you need to get that sparkling smile you've been longing for.
At Belmont Village Dental, our dental health matters to us, so give us a call on (07) 3393 9550 or book an appointment online.