Enjoy a fuller and more confident smile with our restorative and cosmetic dentistry services. These services cover a wide range of treatments that let you create and maintain strong, healthy, and beautiful teeth. With our restorative and cosmetic dentistry, no matter the cost or procedure, you can live confidently with a beautiful and more natural smile.
Restorative Dentistry
Restorative treatments are used to repair damaged tooth structures or missing teeth. This may include fillings, crowns, bridges, inlays, onlays, and other treatments that can repair or restore your teeth from damage or discolouration.
Inlays and Onlays – light fillings used to restore lightly damaged teeth that don't require full dental fillings or dental crowns.
Cosmetic Dentistry
If you want to make your teeth look better than they already do, we offer a variety of cosmetic dentistry treatments that can improve the look and function of your teeth.
Our cosmetic dentistry treatments include services for making teeth straighter, whiter, and arranged closer together (closing gaps or spaces). We can also replace any existing fillings or crowns so they look more even and natural.
You'll be surprised at how much more confident and rejuvenated you'll feel even after the smallest change. With our cosmetic dentistry, you can flash a more confident and natural smile every day, knowing you have a beautiful set of teeth behind it.
Teeth Whitening – professional teeth whitening that effectively whitens faded or discoloured teeth. We offer Zoom in-house whitening treatments that can achieve a whiter and brighter smile in no time.
Veneers – includes porcelain veneers that are bonded to the surface of your teeth to improve their appearance or shape. We can also use veneers to fill in gaps or balance uneven teeth.
Bonding – ideal for fixing teeth chips and filling in small gaps in between teeth. Composite resin is thinly coated on the teeth to restore them.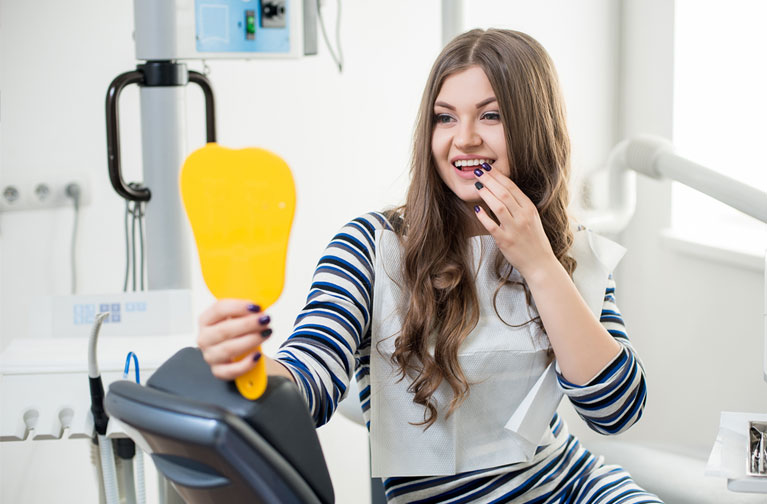 FAQs
We want our patients to be fully informed about the restorative treatments available to them. Here are a few important points to keep in mind before deciding to undergo a dental crown procedure:
What's the difference between general dentistry and cosmetic dentistry?
General dentistry is concerned with maintaining or restoring teeth health through proper prevention, diagnosis, and treatment. This includes regular check-ups, dental cleanings, fillings, fluoride treatments, tooth extractions, root canal treatments, and other routine dental procedures.
Cosmetic dentistry, on the other hand, is designed to improve the appearance of your teeth, including its colour, size, shape, and formation. While most cosmetic dentistry treatments are not essential to proper oral health and hygiene, it can help produce better-looking teeth that can improve your day-to-day life.
What are my options for whiter teeth?
Is there a difference between professional teeth whitening and home teeth whitening kits?
Many home kits are available for whitening your teeth. But to achieve a whiter and brighter smile faster and more effectively than off the shelf whitening products, professional teeth whitening from a dentist is your best option.
Professional teeth whitening typically uses stronger substances and more sophisticated equipment to produce whiter teeth more easily. It also involves application by trained specialists, making treatments safer on your teeth and likely more effective. Results from professional teeth whitening also tend to stay longer than many home remedies, making it a better option if you want longer-lasting white teeth.
How long do veneers last?
Porcelain veneers are designed to last for a long time, and it's common to see them last on patients anywhere from 10 to 20 years with proper care and maintenance.
Is cosmetic dentistry right for me?
It depends on your needs and the condition of your teeth. Although cosmetic dentistry is rarely essential for most people, many find it to be extremely useful and, for some, incredibly valuable. Simply put, cosmetic dentistry can change the way you and other people look at your teeth. If you're not sure whether cosmetic dentistry is right for you, or if you can't decide whether the cosmetic dentistry cost is worth it, please consult our dentist to find out more. Restorative and Cosmetic Dentistry Done Right
Want to restore a broken tooth or improve the appearance of your teeth? Book an appointment with our specialists to get the restorative or cosmetic dentistry treatments you need. If you have any questions about the cosmetic dentistry cost or its requirements, feel free to call us on (07) 3393 9550 or send us a message.