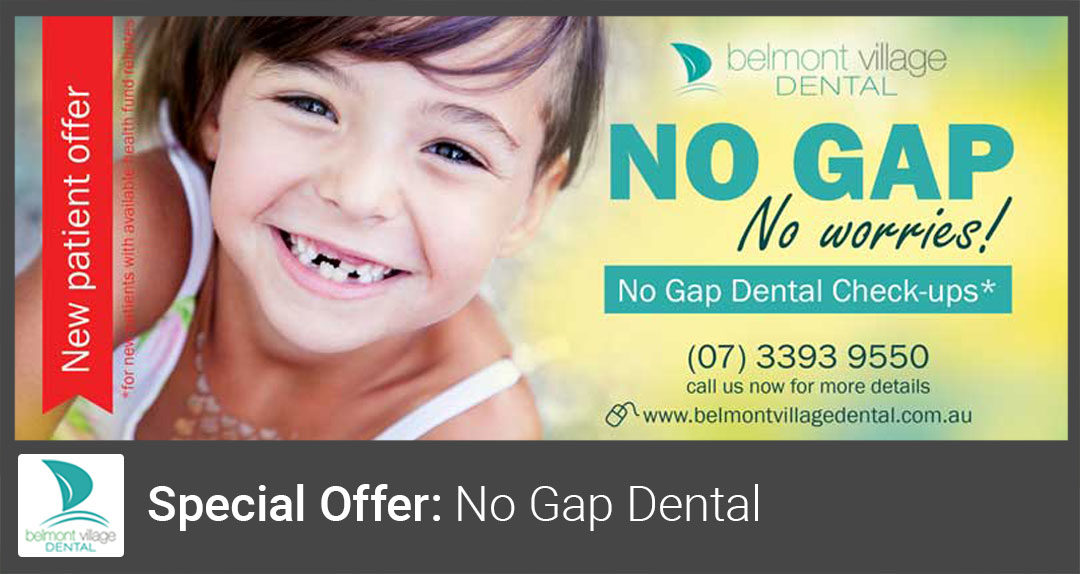 11 Nov 2016
We've all heard the old adage of 'prevention is the best cure' and in terms of dentistry this couldn't be more true.
At Belmont Village Dental, we are passionate about the necessity for you to take care of your teeth to minimise your dental problems.
To make your dental treatments more affordable, we are very pleased to offer you (as a new patient to Belmont Village Dental) a GAP Free dental check-up and clean.
GAP Free means that there will be no 'out of pocket' expenses for your dental check-up!
For a limited time, Belmont Village Dental are offering a comprehensive checkup, clean and a full set of x-rays gap FREE! This means that after your private health fund contribution, there will be no more to pay!
For new patients that are not with a private health fund, we are offering the same inclusions for only $150 (excluding xrays) or $195 including xrays.
Day to day cleaning at home is fantastic, however you also need to take the time to have your teeth checked regularly by a qualified dentist to ensure that minor dental issues don't get out of hand.
Regular professional cleaning, x-rays and check-ups by your dentist can really make a difference to your overall health and well-being. Your dentist will be able to identify if you just need simple treatments for basic tooth decay or gum disease or if there is the chance of you needing further treatment such as dental crowns, root canal treatment or even tooth extractions.
In dentistry, prevention is always better than cure…
Preventative dentistry, on your part, should include:
Regular flossing and brushing
Maintaining a healthy diet
Injury Protection
Regular dental visits
One of the best ways to ensure that you don't have to see the dentist more often than you need to, is to brush and floss regularly. Everyone should floss at least once a day and brush twice a day using fluoridated toothpaste. This should also be followed up by rinsing with an antibacterial and fluoridated mouthwash.
A healthy diet is another great way of protecting your smile! Making sure that you're eating a healthy variety of food such as meat, eggs, dairy and vegetables will help protect your teeth from damage, such as enamel erosion. Some foods that cause dental decay include sugary foods such as lollies and soft drinks, and also acidic foods such as citrus.
Even if you brush and floss regularly, an accident or injury to your teeth can wreak havoc with your dental health. If an accident occurs and your teeth are affected, it's important to see a dentist immediately to assess any damage, to make sure that your smile stays healthy! If you play contact sports it is advisable to wear a mouth guard. These can be moulded and made for you by your dentist.
Lastly, regular dental check-ups are one of the most important ways of making sure your oral hygiene is in top condition. Your dentist can assess your mouth for any oral hygiene issues and ensure that everything stays looking good!